His voice was kinda jokey with an underlayer of irritation as he called a young female New Hampshire voter a "lying dog-faced pony soldier." Nobody really knows what that term even means, but it makes reference to two animals and implies dishonesty, and was directed at a younger female. In the absence of a good explanation, the words just feel unseemly. If he would have been close enough to grab her shoulders and sniff her hair, he probably would have.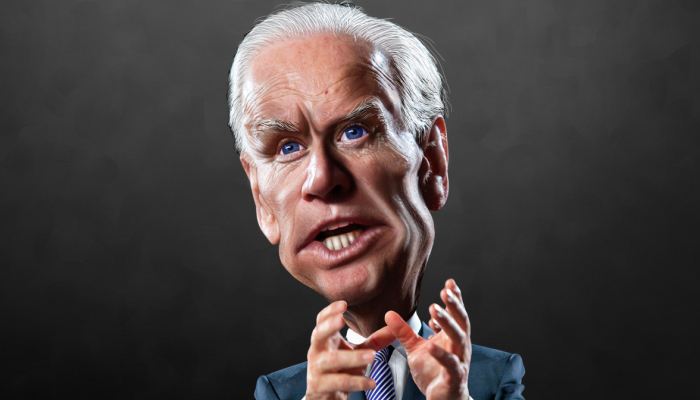 It was this week's most prominent Biden-ism. I'll admit, it is rather fun to say. It's even more fun to mutter it under your breath, with gritted teeth, when someone bothers you. Try it! It scratches the swearing itch but minus the mild moral transgression of swearing. Like calling someone a jackwagon (my personal favorite), it's diet swearing.
Contrast Joe's sad and futile persistence with Andrew Yang's crisp and prudent exit after a lackluster New Hampshire performance. It was clear that Yang made a decision – likely weeks ago – that if he didn't do respectably well in Iowa or New Hampshire he wasn't going to waste any more of his time or donors' cash. 
Biden, on the other hand, is like a hair band that was huge in the 1980's but is now selling $8 tickets and playing to 183 people at the city park's band shelter hoping to make a triumphant comeback, but in reality is only making enough gas money to drive their van with bald tires to the next gig.  Everybody knows who they are, but nobody anymore wants to drop a hundred bucks to see them. It's as sad as it sounds.
Joe Biden is the former vice president of a considerably popular president, so nobody in his inner circle wants to be the one to firmly tell him it's over. But it also means that finishing 4th in Iowa and a single-digit 5th place in New Hampshire makes roughly the same noise as the heart monitor going into that steady and sustained monotone beep that sends hospital staff running, frantically rubbing together the defibrillator paddles to deliver another jolt that might get his campaign to South Carolina and Nevada. 
But even with another jolt, we know how this ends. Everyone (but Joe) agrees that Joe should be enjoying the last decade or so of his life in retirement on a warm beach somewhere. Somewhere that doesn't amplify the visibility of his diminishing mental capacity. His trademark cordiality is quickly being replaced by a thin-skinned irritability directed at potential voters and reporters alike who dare ask a mildly tough question. It's a look that doesn't look good on him.
While the analytical conclusion of Joe's non-viability is unflattering, it's not like being a vice president has been a reliable path to subsequent presidential electoral victory. In our lifetimes, it has happened only once. (George H.W. Bush, 1988) It certainly has never happened in a non-adjacent term. History itself is hostile to the idea of a Biden presidency.
Not long ago, it was almost consensus that Joe was going to be the nominee. Polls had him holding steady over all the other candidates. Fundraising was solid. Staffers at times would utilize the accrued benefits of political longevity and opt to keep their gaffe-prone candidate off the trail. But reality has a way of catching up with candidates. Age, slight creepiness, unanswered questions over the Ukraine/Burisma connection, and now his agitation-laced communication style — all indicate the campaign is nearing its final breath.
Associated​ ​Press​ ​award-winning​ ​columnist​ ​Neal​ ​Larson​ ​of​ ​Idaho​ ​Falls ​is​ ​a​ ​conservative​ ​talk​ ​show​ ​host​ ​on​ ​KID​ ​Newsradio​ ​106.3​ ​and​ ​92.1, ​heard​ ​weekday​ ​mornings​ ​from​ ​6:00​ ​to​ ​10:00. Read more of his work and contact him at www.neallarson.com.